Love and Magic's original
Spoken word and song concert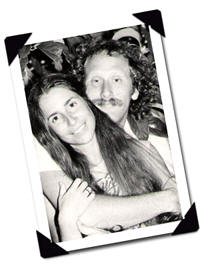 "there's a spell that's cast
from a well so deep
a promise granted
an ancient dream
still fast asleep
to a place enchanted

where magic dances with the moon
and crystal circumstances bloom
I'm enchanted by it all……"

Richie Pollock
After 32 years of marriage and music, Richie and Linda are still on their honeymoon, continuing to celebrate the magic of love through their original concert. Richie's songs, poems and stories reflect an inner connection to heart and consciousness that heals and inspires.
From very high-energy songs to soft melodic tunes, LOVE AND MAGIC's fun and sincerity is a gift for their audiences to enjoy. Their relationship and harmony remain central to each performance. Richie's oral recitations with background arrangements are tremendously well received and appreciated by all.
Richie, after selling his song, "Goodtime Man" to Screen Gems, knew songwriting would be his life passion. Their CD entitled "TALES OF LOVE AND MAGIC – Spoken Word and Song" contains songs, poems, stories and a play, all written by Richie.
LOVE AND MAGIC were chosen in the top ten at the Busker's International Festival, have had several radio and television appearances and were featured in many newspaper articles.
To this day, their LOVE AND MAGIC, on stage and off, continues to grow.