"we're not young but we're not weathered
songs unsung brought us together
love kept growing since I met her
we don't get old we just get better"


It was LOVE AND MAGIC at first sight. Richie from Brooklyn, New York and Linda from Montreal, Quebec met in Copenhagen, Denmark. Little did they know that 4 years later they would return to Copenhagen, married and singing their original songs of LOVE AND MAGIC in the streets of that fairytale city, and it has been a fairytale ever since.

Richie plays guitar and Linda occasionally accompanies him with light percussion and/or keyboard, and dance. She is also their booking agent. Although they are both fine solo performers, it's when Richie and Linda sing in harmony that the LOVE AND MAGIC really shines.

This internationally acclaimed duo have toured Europe, United States and Canada, reflecting their love for life and each other through their musical performances.

Most people search for LOVE AND MAGIC all their lives. Richie and Linda have found both and give 100% of themselves, allowing their audiences to feel the LOVE AND MAGIC.

Add a little LOVE AND MAGIC to your next affair!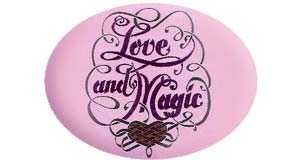 People always ask them, "Who's LOVE? Who's MAGIC?" They say, "It's the magic of love we feel that we want to share with people." They used to call themselves LINDA AND RICHIE. Makes sense, doesn't it? Then came that memorable phone call from their psychic friend Kali.

Her natural born abilities helped the police solve many of their cases. It was always fun to hear Kali's intuitions. She said, "Hey y'all! I had a dream last night where you guys were on stage in black and white jumpsuits and you were called LOVE AND MAGIC. The name seems to be a perfect vehicle for you to tell your stories about how love has attracted magic into your lives. Ya know, I've heard that in Scotland or somewhere, people raise their glasses in a toast " to love and magic". I think the name is great for you." Richie and Linda felt good about it. They never got into the black and white jumpsuits, but they kept the name ever since.

Many times they've been introduced as Love and Marriage (close). They always remember the time one of their senior concerts was filled to capacity, with no standing room left. To their complete surprise, the MC introduced them as Love On A Mattress! No wonder the place was packed. Who knows what these seniors were expecting! Of course there was the time they sang on television and printed underneath was "Linda and Kathy". But that's another story...